Fall not only brings cooler weather and pumpkin lattes, but we suddenly have the urge to decorate with pumpkins, brightly colored leaves and fuzzy blankets. Do you feel like you drag out the same fall decorations every year…? Why not try something new this fall?
Designer Julie Robbins says to expect to see a mix of texture and color this fall – a trend that is spilling over from fashion into home décor. "A big trend this season is blending patterns you wouldn't ordinarily put [together]. For example, paring a very exotic or modern pattern, like an animal print or an architectural design with a mainstream vintage Americana pattern, such as Fiesta, or maybe mixing a polka dot pattern with fine china [with regard to table settings]. It's unexpected, but it really works."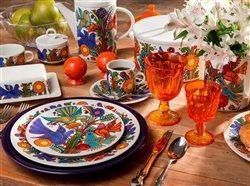 Robbins says shades of purple are trending this fall, including various tones of berry and plums, along with warm autumn oranges and sage. Popular textures lean toward natural materials such as burlap, leather and knits.
Do you have a favorite eclectic holiday décor idea that integrates your everyday style – but still packs a punch? Lucky you, you're right on trend this year! Share your ideas with us, too!